There really isn't much to say about this polish other than IT. IS. EPIC.

No, really. While I do LOVE me some nail polish, I don't normally go CRAZY for it. Especially for the pricier brands (Yes, I'm a cheapo) -- But when my friend Roxy (who is one of the biggest nail polish lovers I know) told me to check out a hard-to-find brand called NFU Oh, I listened. She means business. :D

I wasn't expecting to buy, honestly (No, really -- I swear it!). I just intended on perusing the website (which is http://www.fabuloustreet.com, by the way). Little did I know that once I viewed a few of their 'Flakies', I wouldn't be able to sleep until I purchased at least one (I literally couldn't sleep. Seriously. I may or may not have issues...).

Moving right along, I knew that I HAD TO HAVE *this one*, which is called NFU Oh Victorian Polish 056 on the website and is in the "Flakies" category (Actually, I also got one of the colors from their Holo line, which is number 065). It was a challenge only choosing two, let me tell you -- But again, for the price (which is $12.50 a bottle with free shipping), I wasn't prepared to go crazy -- Especially on a bunch of polishes that I had not yet tried.

I placed my order mid-week and my package arrived by Saturday. Both polishes arrived neatly packaged with no room for a postal worker vs. nail polish showdown (Sometimes packages don't survive, so this pleased me).

It was evening by the time I realized my package had arrived, but once I saw my polish, I knew there was no way I would be able to wait until the next morning to try it out. So, off I went. :)

Here is a photo of my two beloved NFU Oh polishes -- How cute are the bottles? Um, VERY!





I decided to pair my Nfu Oh 56 with a lovely, dark blue polish I got at CVS last week for 75% off (Winning!). Here's a pic of my nails quickly painted with said blue, which is a Rimmel color called "Midnight Blue":





I couldn't WAIT to put my Flakies over it -- And when I did, I LOVED the results! One, two or even three pictures wouldn't do it -- I chose to photo bomb you!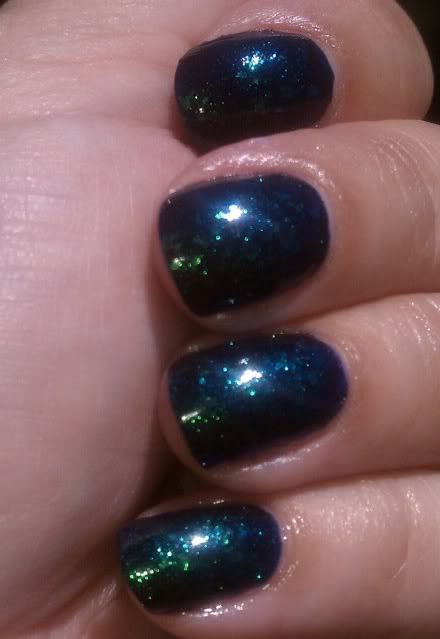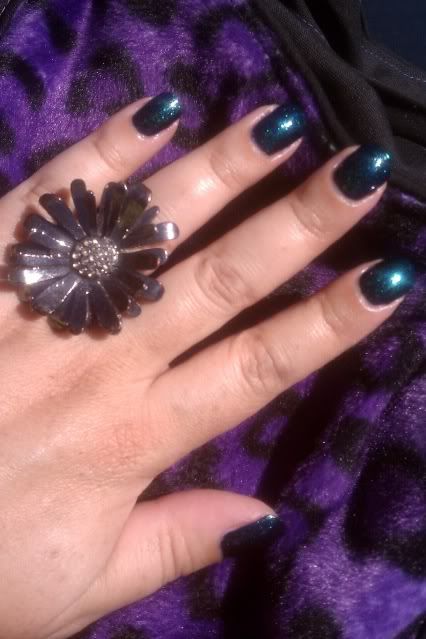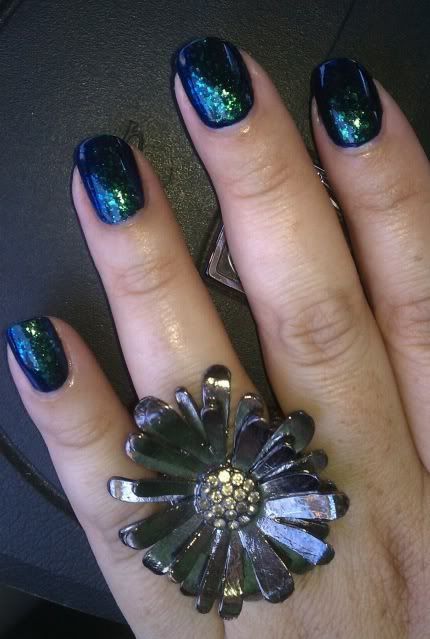 This polish gives me the 'mermaid effect' that would take layers and layers of cheaper polishes to achieve. Also, it dries glossy -- very glossy (Another appealing quality, IMO).

The iridescent flakes are extremely sparkly and shift colors in certain lights, as you can probably see from my photos.

Final thoughts: GO BUY THIS POLISH! I assure you, you won't be disappointed. :)

Thanks for reading!